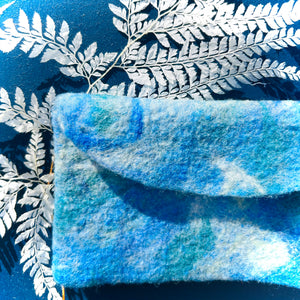 FELTED PURSE / SAT NOV 25TH / 11.30AM-1.30PM / ON LOCATION AT RENEGADE MARKETS
Regular price
Sale price
$60.00
---
WORKSHOP OVERVIEW
Get excited to join us for a few hours of fun, as we introduce you to the art of wet felting.  We are hosting this workshop on location at the Renegade Market - The perfect environment to soak up the creative vibes and to truly be inspired. 
Local student and aspiring artist Sari Lawback will guide you through this workshop as you use soapy water, wool fibres and friction to create your very own felted purse. Sari found her passion for felting 3 years ago and has continued to felt her heart out ever since, we hope you feel the same passion as you get creative with colour, and have fun with the process!
We will take you from wool rovings to purse, as we teach you how to layer the fibres, the use of a resist, and step you through the process of tangling the fibres. Finishing with an artistic design on the surface of your creation, that is uniquely yours.
While we usually host our workshops from our Craft Collective studio, this workshop will be hosted on site at the Renegade Mega Market at the Townsville Stadium (formally the RSL stadium). We will be set up in a room on the mezzanine level at the markets providing the perfect opportunity for you to wander through the market before the workshop to soak in the local talent and to truly be inspired.
Your workshop ticket will grant you free entry to the market for the entire day.
All materials to create your purse are included. Just bring your creativity and excitement as you join us in the world of felting!
OTHER INFO
We welcome anyone who'd like to join us and connect with like-minded people while getting their craft on!   Gather your friends or come alone.
Small class size will allow for maximum attention.
TERMS AND CONDITIONS
Your space in a class is reserved only once full payment has been received. 
Our workshop tickets are non-refundable.  If you are unable to attend, you may pass your ticket to someone else you wish to come in your place. 
We are required to meet minimum numbers for each class.  If we do not meet this requirement and need to cancel a class we may do so at any time and offer you a full refund. 
As we continue to live through this global pandemic we may be required to cancel the workshop to comply with COVID safe guidelines.  If this occurs we will reach out to you.  We are unfortunately unable to provide a refund for the full amount due to fees and charges incurred at the time of the sale, however we will offer you a refund for approximately 95% of the workshop fee.  Alternatively we can offer you a craft collective credit for the full amount.   
Whilst arriving, attending and leaving the workshop, it is your responsibility to ensure that you maintain and adhere to all safety precautions and requirements. The Craft Collective Townsville and the visiting teachers hold no personal liability or responsibility for any damage, loss or theft incurred to personal property, or any physical injuries obtained during the workshop or on the premises. By attending a workshop, you agree in holding full responsibility and liability for any damages, injuries to parties involved and physical and/or personal property that may occur during the workshop or on the premises.