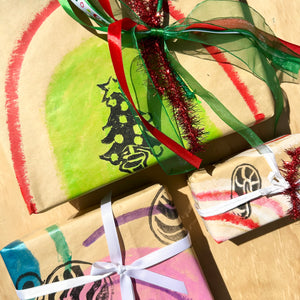 CHRISTMAS PAPER & LINO CUT STAMP MAKING / SAT NOV 25TH / 9-10.30AM / ON LOCATION AT RENEGADE MARKETS
Regular price
Sale price
$48.00
---
WORKSHOP OVERVIEW
Join us for a delightful Christmas-themed workshop where we combine the art of linocut stamp making with acrylic painting on wrapping paper.  We are hosting this workshop on location at the Renegade Market - The perfect environment to soak up the creative vibes and to truly be inspired. 
Led by the talented Kellie, who has mastered the art of creating unique and heartfelt Christmas paper, this workshop is designed to make your friends and loved ones feel truly special and cared for.  Kellie will share her tips and tricks to elevate your Christmas wrapping to the next level. 
By the end of the workshop, you will take home a generous roll of wrapping paper, your lino print stamps for card-making, additional wrapping paper, and more.  During the workshop, you will have the opportunity to create two stamps - a large and a small one - and use them to design a complimentary pattern using acrylic paints. 
The result will be your very own signature wrapping paper that will convey how much you love and appreciate your loved ones.
While we usually host our workshops from our Craft Collective studio, this workshop will be hosted on site at the Renegade Mega Market at the Townsville Stadium (formally the RSL stadium). We will be set up in a room on the mezzanine level at the markets providing the perfect opportunity for you to wander through the market after the workshop to soak in the local talent and to truly be inspired.
Your workshop ticket will grant you free entry to the market for the entire day.
Suitable for all skill levels.  All materials are included.
OTHER INFO
We welcome anyone who'd like to join us and connect with like-minded people while getting their craft on!   Gather your friends or come alone.
Small class size will allow for maximum attention.
TERMS AND CONDITIONS
Your space in a class is reserved only once full payment has been received. 
Our workshop tickets are non-refundable.  If you are unable to attend, you may pass your ticket to someone else you wish to come in your place. 
We are required to meet minimum numbers for each class.  If we do not meet this requirement and need to cancel a class we may do so at any time and offer you a full refund. 
As we continue to live through this global pandemic we may be required to cancel the workshop to comply with COVID safe guidelines.  If this occurs we will reach out to you.  We are unfortunately unable to provide a refund for the full amount due to fees and charges incurred at the time of the sale, however we will offer you a refund for approximately 95% of the workshop fee.  Alternatively we can offer you a craft collective credit for the full amount.   
Whilst arriving, attending and leaving the workshop, it is your responsibility to ensure that you maintain and adhere to all safety precautions and requirements. The Craft Collective Townsville and the visiting teachers hold no personal liability or responsibility for any damage, loss or theft incurred to personal property, or any physical injuries obtained during the workshop or on the premises. By attending a workshop, you agree in holding full responsibility and liability for any damages, injuries to parties involved and physical and/or personal property that may occur during the workshop or on the premises.